You know things are weird when you have to stand far apart to stand together.
Friends, these are strange days indeed. "Social Distancing" is the new buzz term you can't avoid. People are adopting it, ignoring it, screaming about it, scolding about it…It seems like it's what we all need to be doing, but it's not always easy to do. If something is holding you back from social distancing — your neighbours inviting themselves over, your burning desire to hit the gym, a narrow walking path, your need for vast quantities of hand sanitizer and toilet paper — we can help. We've developed this delicious recipe for Social Distancing (Bean) Salad. Trust us, eat this on the regular and no one will come within 6 feet of you.
We're so excited to share this recipe as it's the first recipe video from Apocalicious! We'll share a new recipe video each week!
You know things are weird when you have to stand far apart to stand together.
STANDING APART, TOGETHER.
This impossibly easy recipe is a tasty new spin on a classic — BEAN SALAD! It's really good for you and really tasty. This recipe is perfect for "Social Distancing" because it's loaded with a potent trifecta of ingredients guaranteed to keep most people you encounter at least 6 feet away from you — beans, raw garlic and raw onion.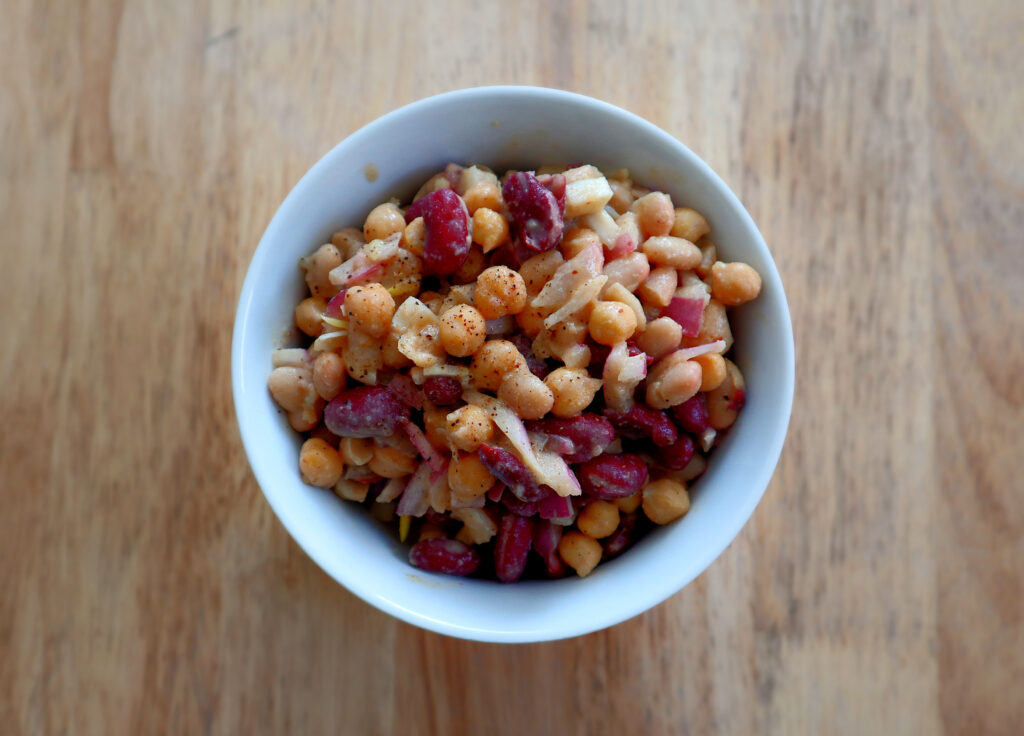 This recipe has a bit of an Asian and Middle Eastern twist to it. It's richer than standard bean salad, and way more flavourful. We like it on its own or with veggies. It's full of satiating and energizing slow-burn carbohydrates, good fats and a ton of plant based protein. Pretty much anyone can dig into it because it's free of major allergens, is gluten free, vegan, grain-free and made entirely with pantry items and familiar condiments.
Remember friends, we're all in this together, even when we're standing far apart. Stay healthy, stay safe, and stay frosty.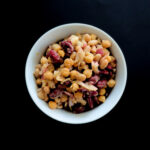 Ingredients
1 can of red kidney beans, rinsed and drained

1 can of cannellini beans, rinsed and drained

1 can of chickpeas, rinsed and drained

1/4 cup apple cider vinegar

1/4 cup extra virgin olive oil

1/8 cup soy sauce OR tamari OR coconut aminos

2 cloves garlic, crushed

1 small red onion, finely diced

1.5-2 tsp ground cumin

2-3 tbsp tahini paste

2 tsp dijon mustard

4 cranks salt

8-10 cranks of black pepper

OPTIONAL: Dash of your favourite hot sauce
Instructions
In a mixing bowl, add the apple cider vinegar. Drizzle in the olive oil as you whisk vigorously until emulsified.

Once well mixed, add the tahini, mustard, soy sauce/tamari/aminos, hot sauce and spices and whisk for another minute until emulsified.


Mix in the garlic and onion.

Add in the beans and chickpeas and stir very well with a large spoon.
Enjoy immediately or refrigerate for up to 3 days. Stir up the bowl well before serving.
Notes
Use any beans you like except baked beans.