Today on Apocalicious we're eating our feelings. Remember the first Matrix? Specifically, the scene where Neo visits the Oracle and he and everyone else is hoping for some good news? Not to his surprise, she tells him some pretty bad news, but she gives him a spoonful of sugar to help the medicine go down — a cookie.
I think pretty much everyone in the world could use a big F#$%ing cookie right about now, so we made one! OUR RIGHT AS RAIN GIANT COOKIE.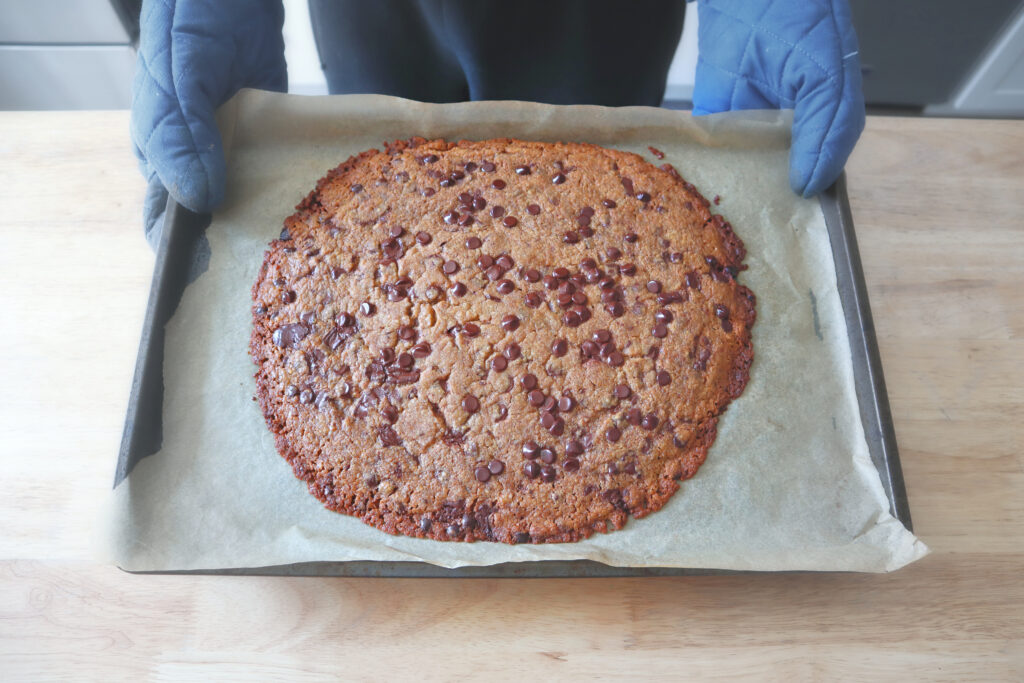 It's a GIGANTIC new spin on a classic — CHOCOLATE CHIP COOKIES! Pretty much anyone can dig into this vegan pantry recipe because it's free of major allergens, is vegan, can be made gluten-free, and is made entirely out of pantry items. I know you're gonna love it.
Be sure to watch the recipe video to see our magical cookie baking techniques in action. You'll probably learn something new!
Loaded with chocolate chips and dark chocolate chunks, this cookie is crisp around the edges but soft and almost molten in the middle. It's incredible!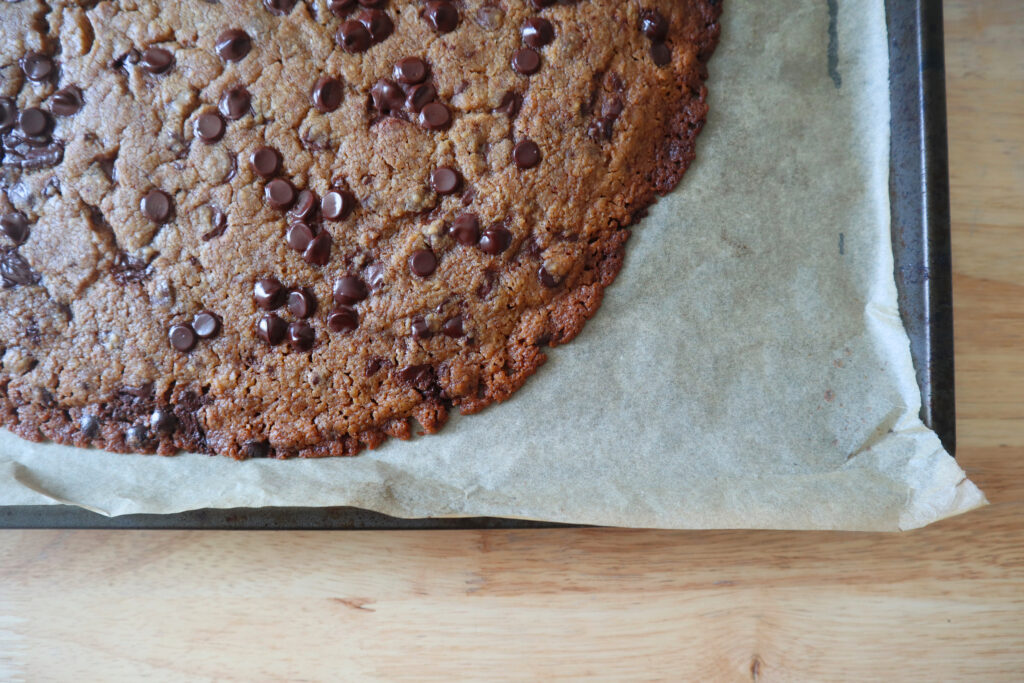 Take this pandemic day by day, one giant chocolate chip cookie at a time.

I THINK WE COULD ALL USE A BIG F#$%ING COOKIE.
Be sure to give our giant chocolate chip cookie recipe a try — it comes together pretty easily and quickly in a food processor! Once baked, break yourself off a giant piece and top it with a scoop of vanilla ice cream.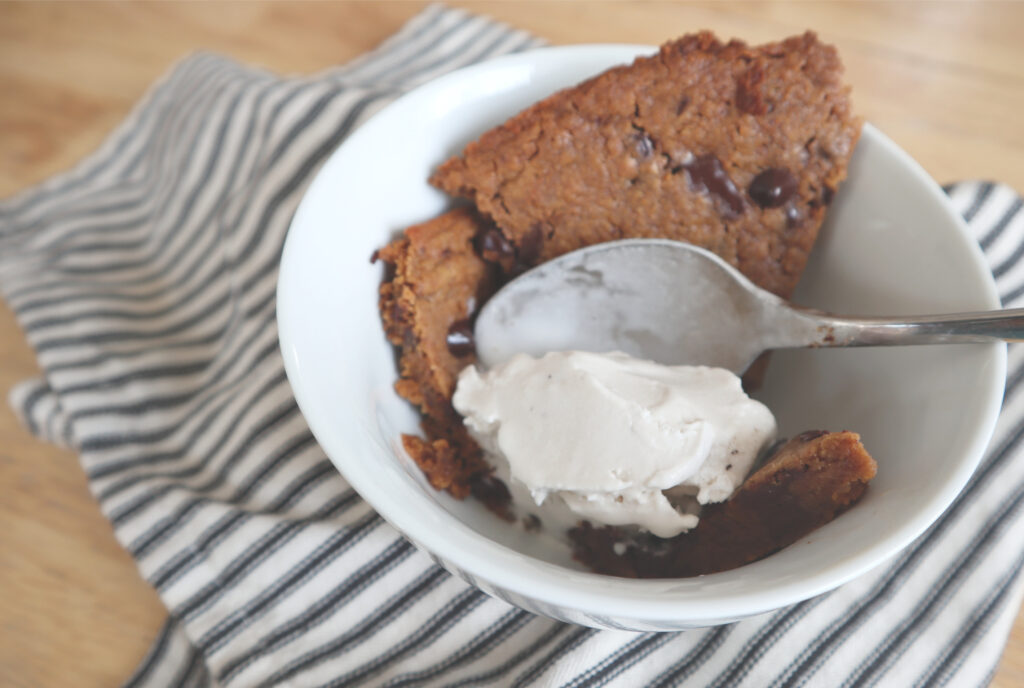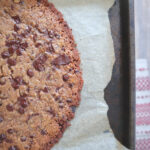 Ingredients
2 1/2 - 2 3/4 cups all-purpose flour OR gluten-free 1:1 flour (add more than 2.5 if dough seems too greasy)

1 tsp salt

¾ tsp baking soda

1 cup room temp solid/soft refined coconut oil OR soft vegan butter

1 cup dark brown sugar OR demerara sugar

¼ cup granulated sugar OR coconut sugar

3 tbsp aquafaba (liquid from a can of chickpeas) OR 1 flax egg OR 1 egg replacer OR 1 egg

2 tsp. vanilla extract OR 1/2 tsp vanilla bean powder

1/2 cup vegan chocolate chips plus a handful for the top OR whatever chocolate chips you have

1/4 cup coarsely chopped dark vegan chocolate OR whatever chocolate you have
Instructions
In a mixing bowl, sift together flour and baking soda and salt.
Whisk the flour mixture to ensure all ingredients are well distributed.
In a food processor (or in a mixing bowl with a potato masher or an electric mixer) cream together coconut oil and sugar.
Once the mixture looks smooth and creamy, beat in vanilla and aquafaba or egg.
Add the flour mixture, little by little, into the food processor. Mix well between additions.
Stop mixing once the mixture is well combined and looks like a semi-slick dough. Mix in a little bit of extra flour if your cookie dough appears excessively greasy.
Stir in chocolate chips and chopped chocolate by hand to avoid over mixing.
Form one or a few giant cookies on a parchment paper lined baking sheet.
Freeze 15 mins up to one day.
Bake in oven that's been preheated to 375F for 10 mins.
Remove pan from oven and bang pan on stovetop to deflate the cookie. Return pan to the hot oven.
Repeat the pan bang and return pan to oven step every 2 minutes until about 17 minutes total bake time has elapsed.
Remove pan from oven and allow cookie to cool. Enjoy!
Notes
The cookie I made was vegan but I include ingredient substitution suggestions above if the ingredients available to you are not vegan. To make vegan and gluten-free, replace the all-purpose flour with gluten-free 1:1 flour.