Are you sick of canned food yet? Yeah, same. It can be incredibly dull and in difficult times like these — where you're stuck at home watching Frozen 2 with your kids for the 500th time, and your partner is sitting in a dark corner of the room eating a can of creamed corn in their bathrobe — you get the idea.  Anyways, you're probably ready for something a little bit more…exciting. This recipe is for you if you can't get no satisfaction.
Our Carbonara (based lifeforms) Pasta recipe is inspired by Pasta Carbonara, but doesn't involve any of its original ingredients. We know Italians won't approve of our recipe, but extraordinary times call for a little ingenuity. Besides, the real ingredients are pretty hard to get at the moment, as you're probably well aware!
Italy has been on my mind a lot lately. I love that country so much and it's been so hard hit in this disaster. I hope this recipe keeps Italy and its wonderful citizens in your thoughts and prayers.
Traditional Pasta Carbonara is made with eggs, cheese, and guanciale. We have veganized the recipe, replacing the sauce with a root vegetable cream sauce and crispy strips of homemade, smoky rice paper "Pantry Bacon".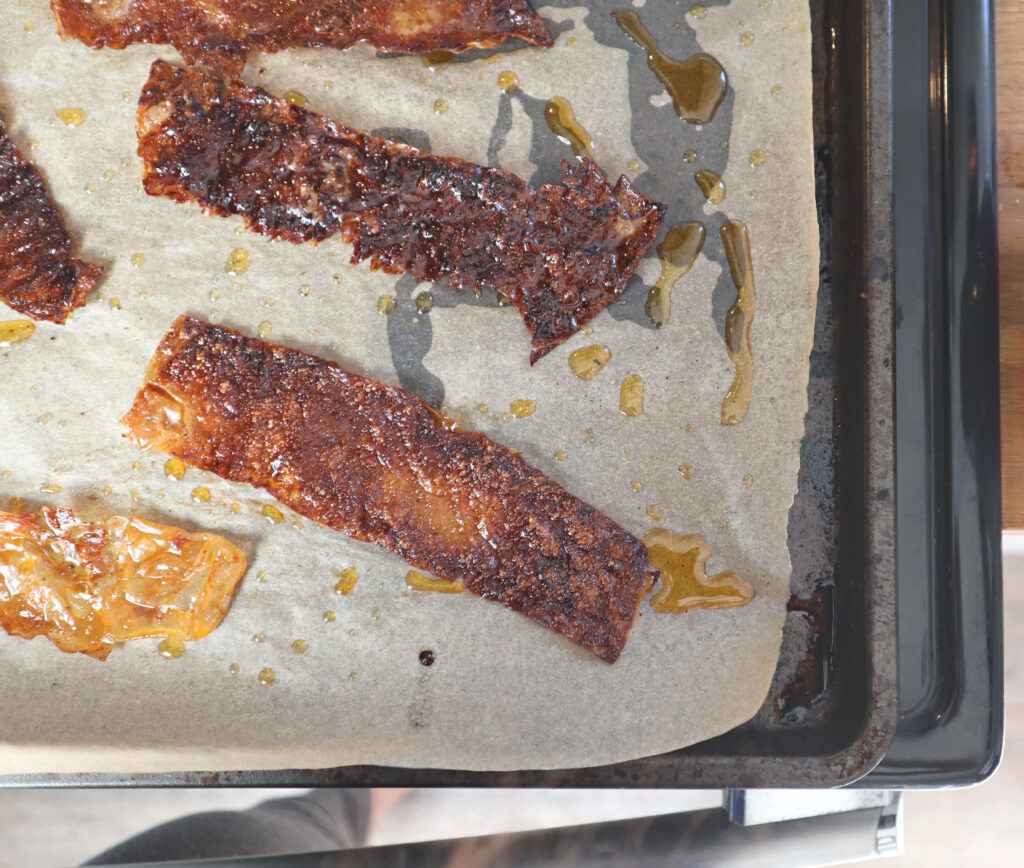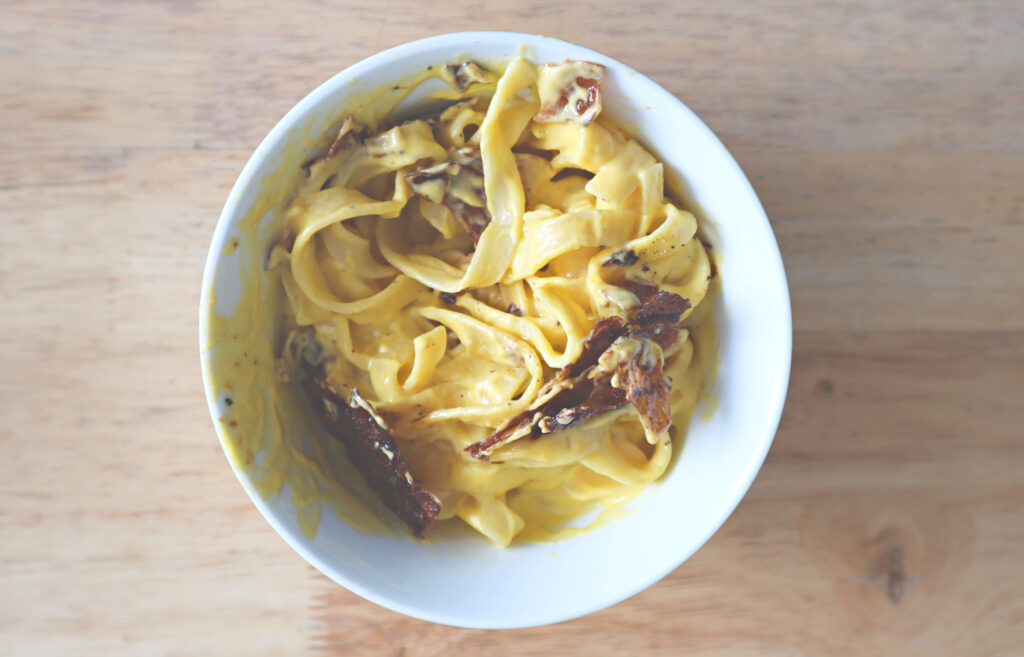 It's hard to believe that we pulled together this delicious and soul-satisfying recipe with basic pantry items, condiments and a couple shelf-stable root vegetables! It'll hit the spot, we promise. It's also a recipe that pretty much anyone can enjoy as it's free of major allergens, is vegan, gluten-free, soy-free and nut-free.
Everything you see I owe to spaghetti.

EXTRAORDINARY TIMES CALL FOR A LITTLE INGENUITY.
I'm pretty hungry, so let's make this thing! I know you're gonna love it. You can print or save the written recipe below. Be sure to subscribe for more recipes from us! We plan to share a new recipe video each week. All of our recipes are made with pantry items, shelf-stable foods, and occasionally foods we'll teach you how to grow for yourself.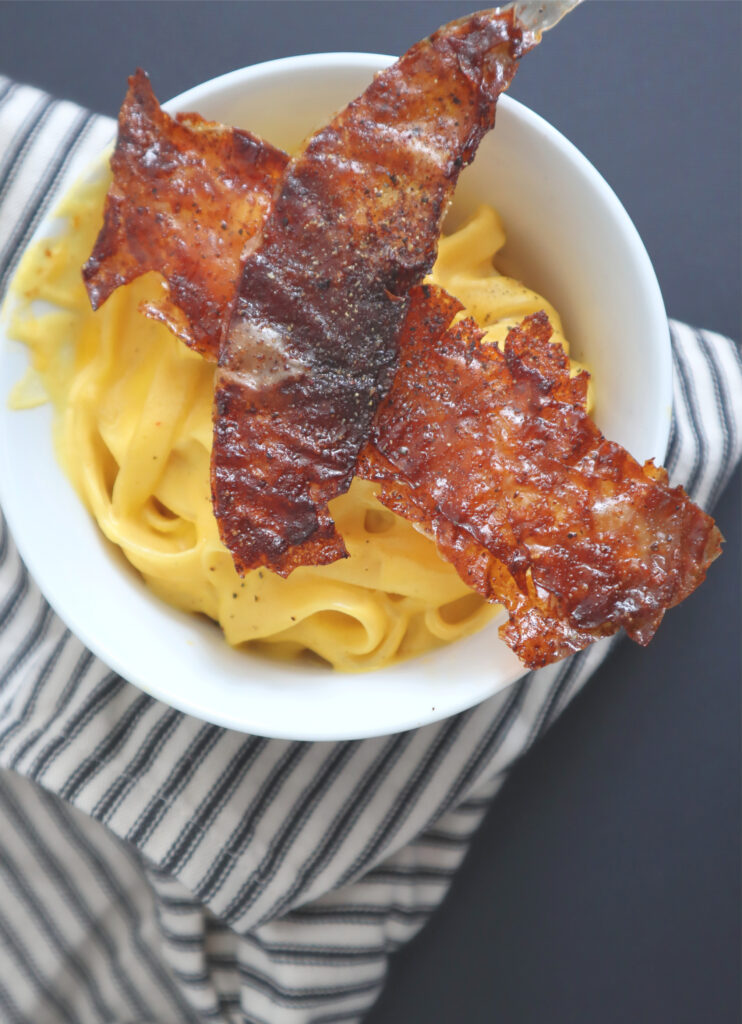 Friends, the times they are a changing, but remember, we're all in this together — even when we're standing far apart. Stay healthy, stay safe, and stay frosty.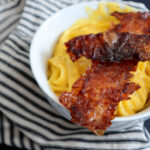 Ingredients
VEGAN BACON:

2-4 Rice paper wrappers

Water

3/4 cup Soy sauce/tamari/coconut aminos (use gluten-free/vegan option to make recipe gluten-free/vegan)

1 tsp smoked paprika

1/2 tsp garlic powder

A few cranks of fresh pepper OR 1 tsp ground

1 tbsp maple syrup

2 tbsp melted coconut oil

PASTA:

Dried fettuccine or spaghetti pasta (2-4 servings) (use gluten-free/vegan to make recipe gluten-free/vegan)

Water for boiling

PASTA SAUCE:

1 medium carrot (peeled, chopped and boiled until very tender)

1 medium potato (peeled, chopped and boiled until very tender)

1 cup reserved cooking water (from boiling the vegetables above) OR 1 cup vegetable broth

1/4 cup reserved pasta cooking water

1 cup canned coconut milk

0.5-1 tsp smoked paprika (depending on how smokey-tasting you want it)

A few cranks of black pepper OR 1/2 tsp ground

1/4-1/2 tsp garlic powder or granules

1/8 tsp turmeric powder

Salt (I used a few cranks, but adjust salt to your taste)

1-1.5 tbsp tahini paste (can be replaced with cashew butter)
Instructions
VEGAN BACON INSTRUCTIONS:
Preheat oven to 400F.
Using kitchen scissors, cut the rice paper wrappers ONE AT A TIME into long pieces that are of equal width (see video to watch and learn). Set aside.
Fill a mixing bowl with warm water.
Fill a shallow dish or pan with the remaining VEGAN BACON ingredients listed above. Whisk together well.
Line a baking sheet with parchment paper.
Grab one of the pieces of rice paper wrapper. Dip into bowl of water to wet. Dip into marinade to coat, shake off excess gently and place on the parchment-lined pan.
Repeat step 7 with a new piece, layer on top of the first piece.
Repeat steps 7 and 8 until you have used all the pieces and have several double-layered "bacon" strips.
Bake in the oven for about 5 minutes or until the bacon looks crispy and brown. Remove from heat and set aside for later.
PASTA INSTRUCTIONS:
Prepare pasta according to the package instructions but stop cooking when still quite al dente.
Drain the water and reserve 1/4 cup of it in a mug or bowl.
Set pasta aside until sauce is ready.
PASTA SAUCE INSTRUCTIONS:
Add all PASTA SAUCE ingredients -- except the reserved pasta cooking water -- to a blender and puree until smooth.
Stop the blender and scrape down the sides to make sure everything is incorporated well. Blend again.
Taste the sauce. Adjust salt and pepper to your taste.
If the sauce is not very thick, add more coconut milk and blend again.
Put your al dente pasta back into your pot over medium heat. Add in sauce and heat through, stirring frequently to avoid sticking. Add a splash of the pasta water in, stirring well to incorporate and thicken the sauce.
Once pasta and sauce is hot and nicely cooked, remove from the heat and serve with a couple of pieces of the vegan bacon.
Notes
Use tamari or coconut aminos instead of soy sauce to make gluten-free. Use gluten-free dried pasta variety (brown rice, corn, quinoa, bean, chickpea, lentil etc) to make gluten-free. If you don't use all the sauce you made, store it in the fridge in a sealed jar or container for up to 3 days.