Sometimes, things that you never questioned wither and crumble before your eyes. Your pie crust, your credit, your health, buildings, dreams, the illusion of security…But as someone who has crumbled in many ways and watched many things crumble, I have to say that structural integrity is a bit overrated. When things fall apart, your perspective changes and you begin to truly appreciate and see those things for what they really are.
I have learned the lesson "nothing lasts forever" over and over and over again in my life and after many years I am ok with it. When everything is perfect and unshakeable, things get boring and people become complacent. My "Everything Crumbles" Cookies are a sweet ode to the sentiment that there's beauty in the cracks and flaws of life. They are loaded with virtually everything in my pantry — crumbled into sweet, broken harmony.
These cookies are addictive, indulgent, sweet and salty, soft, chewy, crunchy, and anything but boring. They are literally loaded with everything I have in my cupboards — chocolate chunks, chocolate chips, coconut, potato chips (yes!), and corn flakes. Just like life, they're full of surprises, bumps, cracks and joy. They're also allergy-friendly, vegan and gluten-free optional.
When in doubt, grab a cookie.

-Liv
STRANGE TIMES CALL FOR EXTRAORDINARY COOKIES
You have my respect and awe if you can stop yourself from eating all the cookie dough and make some actual cookies with it. I would estimate I ate about 1/3 of the dough before the rest made its way to the oven…but that's true for almost everything I bake.
These are not healthy cookies, but they are worth it X 1000.
Pay close attention to the ingredients as I've made this recipe gluten-free optional.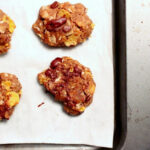 Ingredients
PART 1:

2/3 cup coconut sugar (or sub brown sugar)

2/3 cup coconut oil (solid) (can sub vegan butter or butter)

PART 2:

2 cups flour (FOR GLUTEN-FREE, SUBSTITUTE: 1.5 cups white rice flour + 2/3 cup brown rice flour + 1/4 cup arrowroot starch)

2 tsp baking powder

1/2 tsp baking soda

1 tsp vanilla extract

pinch of salt

2 tsp maple syrup

ADD-INS:

1/4 chopped dark chocolate

1/4 cup mini chocolate chips

2/3 cup slightly crushed vegan and gluten-free kettle-cooked potato chips (sea salt flavour)

1/4 cup coconut shreds

2/3 gluten-free cornflakes cereal
Instructions
Add PART 1 ingredients to a food processor or bowl. Cream together until smooth using the food processor OR in a bowl with a hand mixer.
To that creamed mixture incorporate PART 2 ingredients until well mixed but crumbly.
Blend in 1/4 cup of water (or more if necessary) to make a smooth but not too wet dough.
Add your ADD-INS of choice and pulse to evenly distribute throughout the dough.
Spoon balls of finished dough onto a parchment paper-lined baking sheet.
Freeze for 30 minutes or refrigerate overnight before baking.
Bake 10-12 minutes in an oven preheated to 350F.
Cool and enjoy.