Today on Apocalicious we're staying home because, well, it's the law…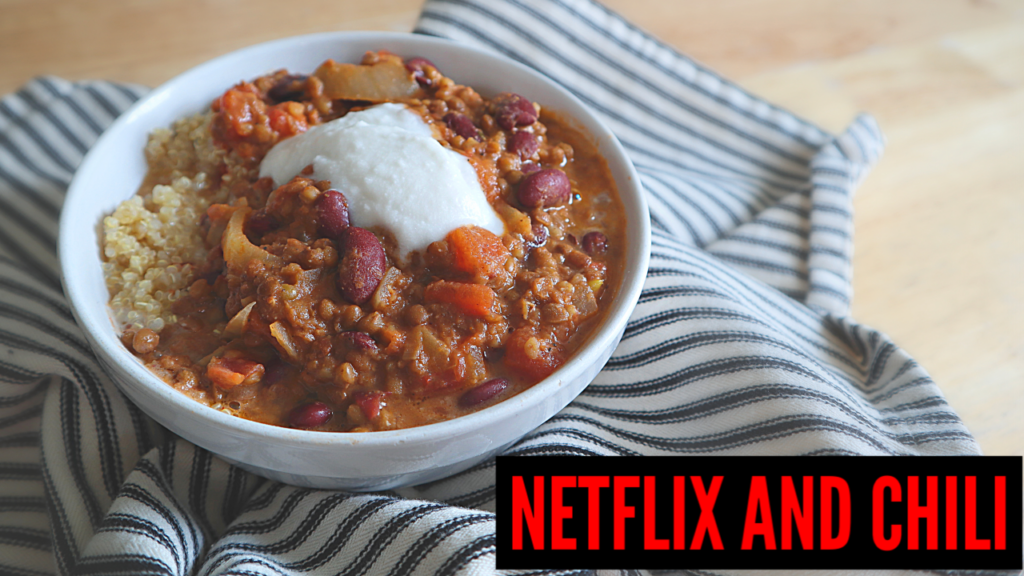 Whether you're coupled up, thruppled, single or just not that into anything, we have an easy but delicious recipe for you to try today — our Netflix and Chili!
I've never met a bean I didn't like.

PERFECT FOR BINGING AND BINGE-WATCHING
Pretty much anyone can dig into this delicious chili because it's free of major allergens, is gluten-free, vegan, and is made entirely out of pantry items and condiments. It's a great meal that you can make with minimal supplies, minimal effort, and it reheats well so it's great for bingeing while binge-watching. It also feeds a crowd (of 5 or less, don't gather!) and tastes amazing. I know you're gonna love it.
You can print or save the written recipe below — perfect for cozy quarantine nights!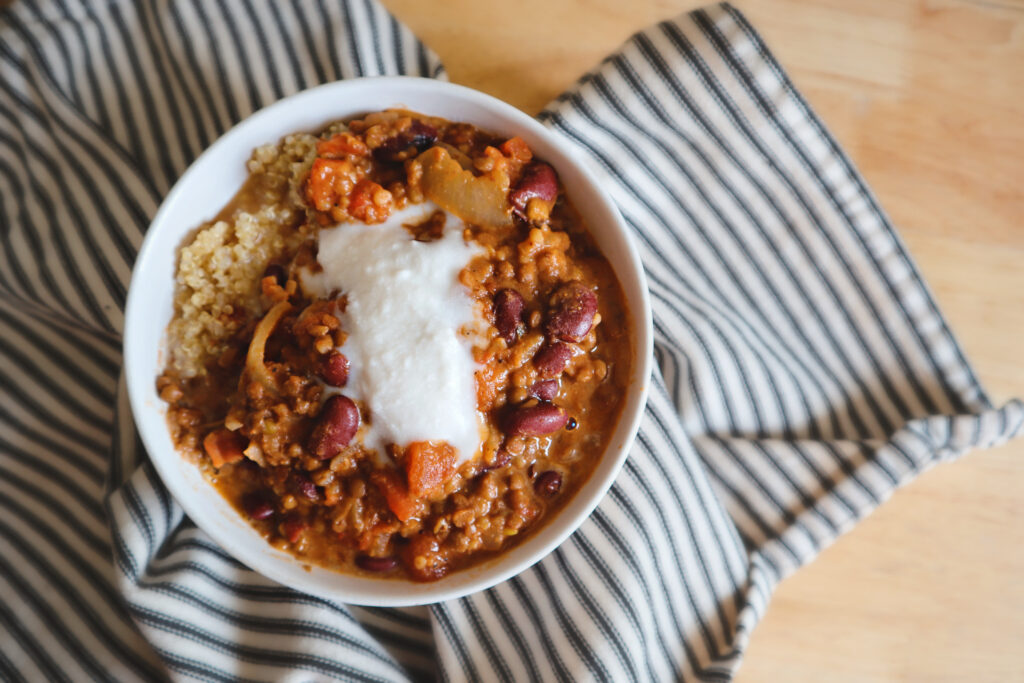 Be sure to like the recipe video on YouTube and subscribe for more! We'll share a new recipe video each week! All of our recipes will be made with pantry items, shelf-stable foods, and occasionally foods we'll teach you how to grow for yourself. Now let's make this thing!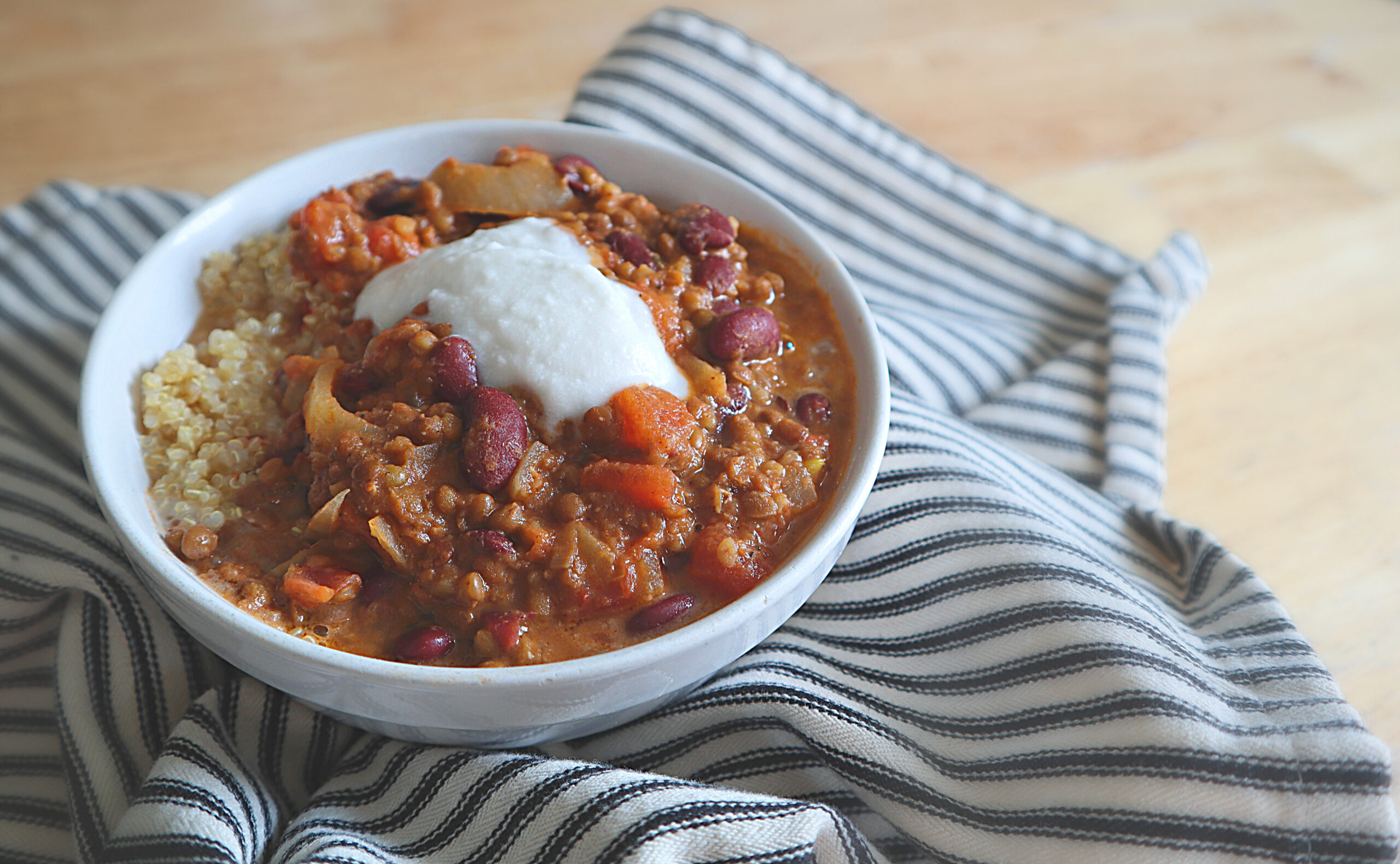 Remember friends, we're all in this together, even when we're standing far apart. Stay healthy, stay safe, and stay frosty.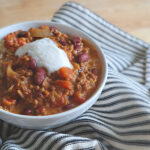 Ingredients
1 can red kidney beans, rinsed and drained

1 large can green lentils, rinsed and drained

1 can of crushed tomatoes

Salt (to taste)

A dash or two of hot sauce

1/4 cup soy sauce or tamari or coconut aminos (which is soy-free)

1 white or yellow onion, peeled and chopped

2 tbsp olive oil

OPTIONAL: 1 cup canned coconut milk or yogurt or sour cream (use vegan option to keep recipe vegan)

SPICE MIX:

1 tsp chili powder

1/2 tsp garlic powder

1/2 tsp cumin

1/2 tsp smoked paprika

1/4 tsp oregano

1/2 tsp black pepper

1-2 bay leaves
Instructions
Heat the olive oil in a medium-sized pot over medium-high heat. Add the chopped onions and saute until translucent and slightly caramelized. (You can caramelize the onions more if you prefer)
Add in the spice mix (outlined in the ingredients above) and stir to coat the onions. Allow about 1 minute for the spices to heat up and become fragrant.
Add the red kidney beans and lentils and stir to coat. Allow to cook, stirring gently often, for 2 minutes.
Add the crushed tomatoes, stirring well to distribute evenly. Add the soy sauce or coconut aminos (if keeping recipe soy-free) and stir.
Season the chili with salt (taste as you add it to ensure it's not too salty for your taste.
Add in a dash or two of hot sauce if you like it very spicy.
Add in the coconut milk (alternative ingredient options listed above) if using. Stir well.
If you're in a hurry you can eat the chili right away. If you're not in a rush, allow chilli to come to a boil. Put a tight-fitting lid on the pot, reduce the heat to a simmer and let cook slowly on low for an hour or more.
Serve on top of rice or quinoa with a dollop of coconut cream or vegan sour cream.
Notes
Use coconut aminos instead of soy sauce to keep recipe soy-free. If you don't have coconut milk you can use yogurt or sour cream (use vegan option to keep recipe vegan).