Is it your birthday? Mine too! Another trip around the sun. If you're like me, you're stuck at home alone…all alone…and every day blends into the next. You can't have a party or even see your friends or family…And you wonder if a birthday really happens if no one's there to witness it?…Anyhoots, whether you're turning 20 or feel like you've aged 20 years in the last 20 days, I have a little gift for you! My Cry If I Want To Birthday Cake! It's a teeny, tiny funfetti cake that's ready to party whenever you're ready to eat your feelings. It whips up in minutes with ingredients you probably have in your pantry and you make it in the microwave! It's vegan and gluten-free optional, too.
If you have 10 minutes to spare you can enjoy this little party in your mouth. Because it's vegan and gluten-free optional, basically anyone can dig in! I know you're gonna love it.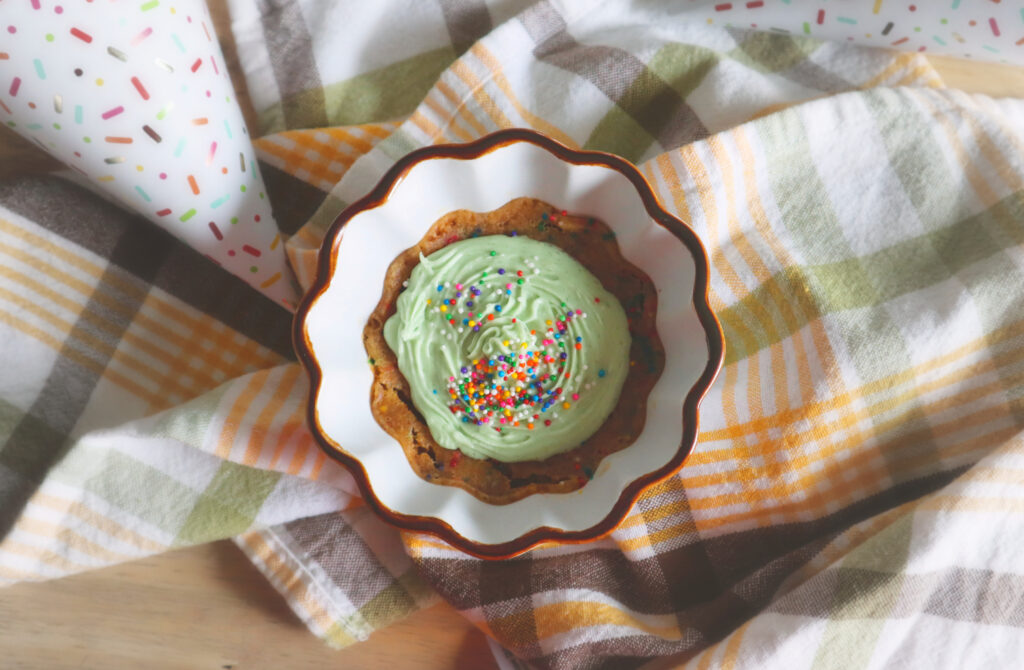 Be sure to watch the recipe video and subscribe for more! We share a new recipe video each week!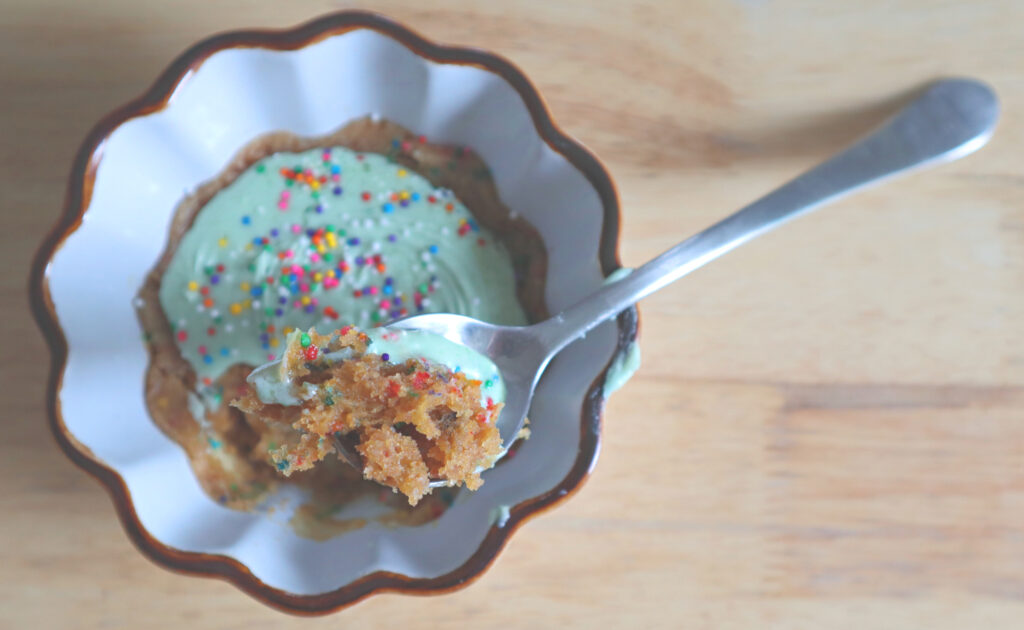 Don't forget to subscribe so you never miss an update from us. All of our recipes will be made with pantry items, shelf-stable foods, and occasionally foods we'll teach you how to grow for yourself.
Does a birthday really happens if no one's there to witness it?
IT'S NOT MY PARTY AND I'LL CRY IF I WANT TO.
If you're a fan of funfetti, and need an injection of rainbow sprinkles in an otherwise dull birthday, this mini-miracle mug cake is for you!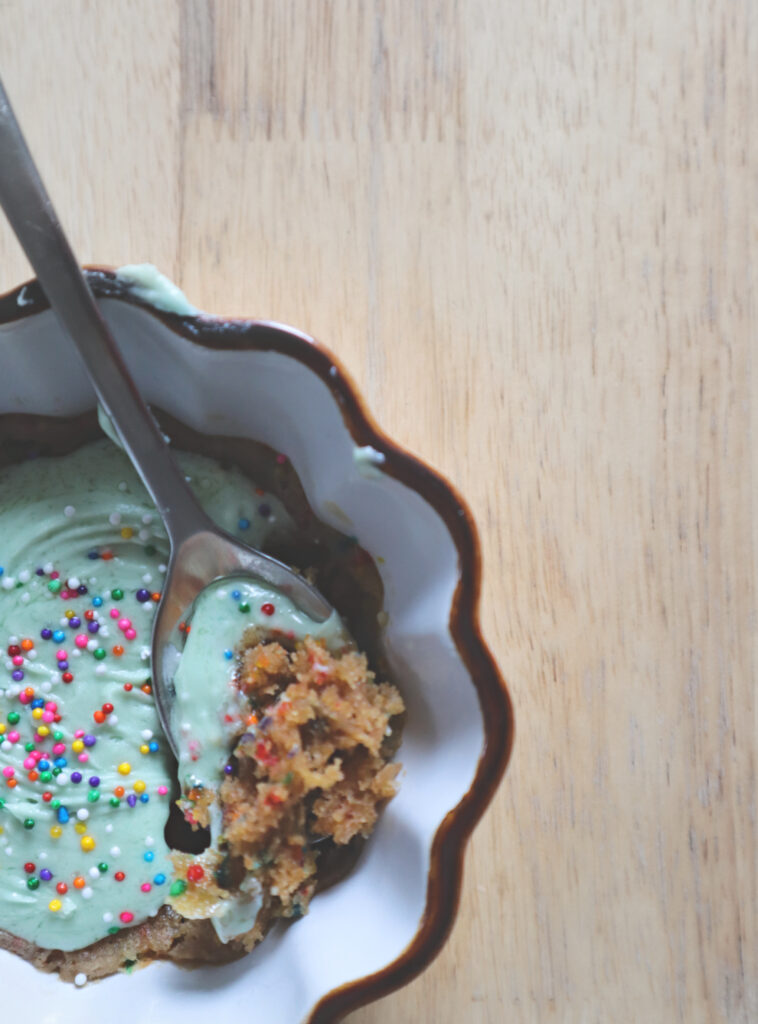 Now let's make this thing! Friends, these are lonesome days indeed…but remember, we're all in this together — even when we're stuffing our faces with tiny microwave cakes far apart. Stay healthy, stay safe, and stay frosty.
Ingredients
FUNFETTI MUG CAKE INGREDIENTS

DRY INGREDIENTS:

4 tbsp cake flour OR 3.5 tablespoons all-purpose flour + 0.5 tbsp corn starch or arrowroot flour OR gf 1:1 flour to make recipe gluten-free

2 tbsp sugar

1/2 teaspoon baking powder

Teeny tiny pinch of salt

WET INGREDIENTS:

4 tablespoons non dairy milk

1/4 teaspoon vanilla extract

1.5 tablespoons neutral tasting oil (vegetable or soft coconut oil or soft vegan butter)

OPTIONAL: 1 tablespoon Funfetti sprinkles

VEGAN BUTTERCREAM FROSTING FOR ONE:

3.5 tbsp powdered sugar

1 tbsp soft but not melted coconut oil OR soft vegan butter

1 teaspoon vegan milk

Tiniest pinch of salt

Tiniest drop of vanilla extract

Optional: bit of food colouring, I used 1 drop green, 1 drop yellow and 2 drops blue to make seafoam green (make bridesmaids joke)
Instructions
FOR THE FUNFETTI MUG CAKE:
To make your cake batter, sift dry ingredients together into a small bowl.
Whisk or stir the wet ingredients into the dry ingredients until well mixed.
Gently fold in sprinkles if using. 
Spoon cake batter mixture into a greased microwave-safe mug or ramekin.
Add a few more sprinkles on top of the cake batter in the ramekin/mug.
Microwave for 1 minute to 1:20, until firm to the touch. 
Remove from microwave and allow to cool fully. 
Make frosting while cake cools.
FOR THE FROSTING AND DECORATING:
Add oil or butter to icing sugar and salt in a bowl and mash together well until the mixture looks sandy and well mixed.
Add in non-dairy milk and vanilla extract and mash and stir until the mixture looks like frosting (slick, smooth, a little shiny).
Stir in your food colouring if using. For seafoam green colour I used 1 drop green, 1 drop yellow and 2 drops blue.
Add finished frosting into a piping bag fitted with whatever tip you like or spread onto your mug cake with a knife, offset spatula or back of a spoon.
Top cake with a small sprinkling of more rainbow sprinkles and serve immediately.