It's becoming increasingly clear that eating meat is bad for your health and bad for the planet. Lucky for you, you don't have to!
Today's easy recipe is for Pantry Bacon. This vegan and gluten-free recipe will rock your world, we promise! It's perfect for all your bacony needs.
Vegan bacon is the revolution this world really needs.

WHEN IN DOUBT, BACON.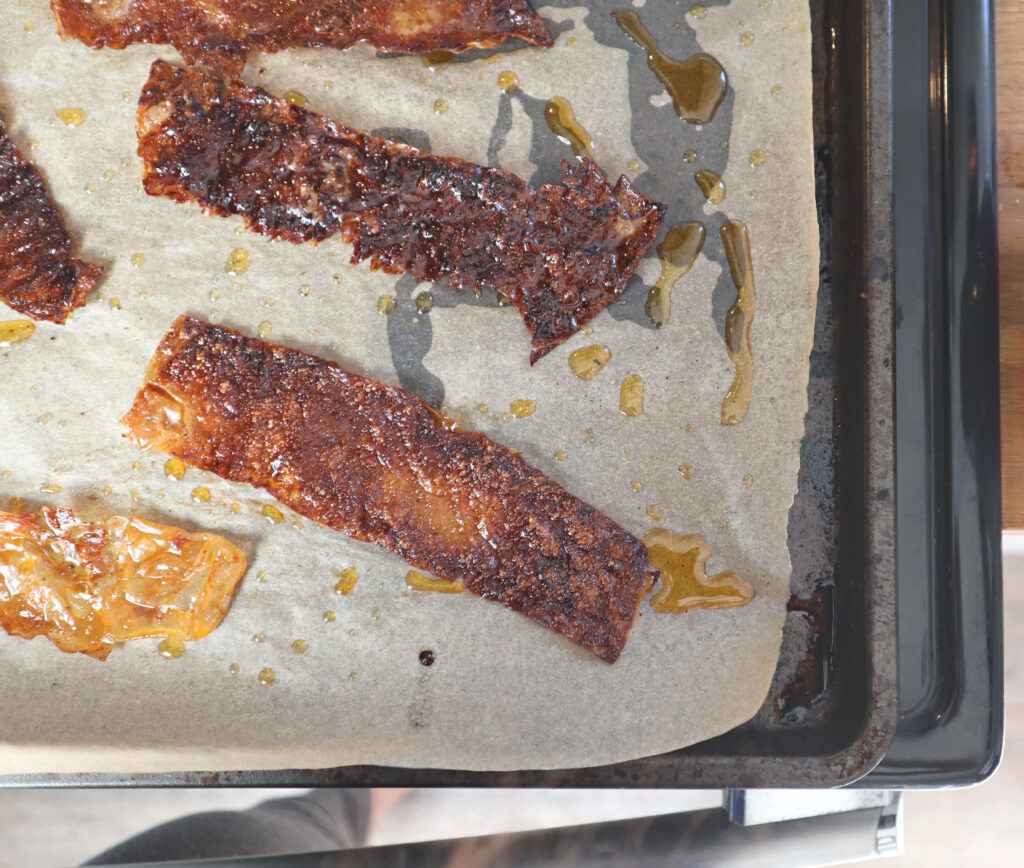 Make a batch of our vegan and gluten-free bacon in under 10 minutes and enjoy it in anything you'd like to add bacon to — BLTs, salads, sandwiches, pastas, pizzas, breakfast and brunch! We've put this delicious new staple to work in our next pantry recipe video. Check back here on Friday to see what we used this bacon for!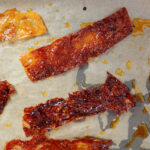 Ingredients
2-4 Rice paper wrappers

Water

3/4 cup Soy sauce/tamari/coconut aminos (use gluten-free/vegan option to make recipe gluten-free/vegan)

1 tsp smoked paprika

1/2 tsp garlic powder

A few cranks of fresh pepper OR 1 tsp ground

1 tbsp maple syrup

2 tbsp melted coconut oil
Instructions
Preheat oven to 400F.
Using kitchen scissors, cut the rice paper wrappers ONE AT A TIME into long pieces that are of equal width. Set aside.
Fill a mixing bowl with warm water.
Fill a shallow dish or pan with the remaining ingredients listed above. Whisk together well.
Line a baking sheet with parchment paper.
Grab one of the pieces of rice paper wrapper. Dip into a bowl of water to wet. Dip into the marinade to coat, shake off excess gently and place on the parchment-lined pan.
Repeat step 7 with a new piece, layer on top of the first piece.
Repeat steps 7 and 8 until you have used all the pieces and have several double-layered "bacon" strips.
Bake in the oven for about 5 minutes or until the bacon looks crispy and brown.
Remove from oven and enjoy!
Notes
Use tamari or coconut aminos instead of sauce to make gluten-free. Use this vegan bacon anywhere you'd use bacon!