We're all thinking it — things are getting a bit hard core out there. I don't know about you, but when life gets crazy, I preheat my oven and bake.
If you believe in the old saying that an "apple a day keeps the doctor away", you might like this Hard Core Apple Cake recipe. It sneaks in some pretty healthy ingredients that are easy to get and store for long periods of time — apples, bananas, oatmeal and cinnamon. Apples can be bought in bulk and stored in a cool place (fridge, dark cupboard or cellar) for months. Bananas can be frozen and stored for months. Oatmeal and cinnamon can be stored for years in an air-tight container at room temperature.
You could totally enjoy this cake for breakfast if the mood strikes you. It's perfect for those challenging days, when it feels a bit too intense out there. Lucky for most of us it's time to hunker down inside, so you might as well dig in!
I'm usually not a big fan of icing-less cakes — the coffee cake genre in general, really. But apple cake has always been a favourite of mine. Lightly spiced cake stuffed to the brim with caramelized spiced apples — what's not to love?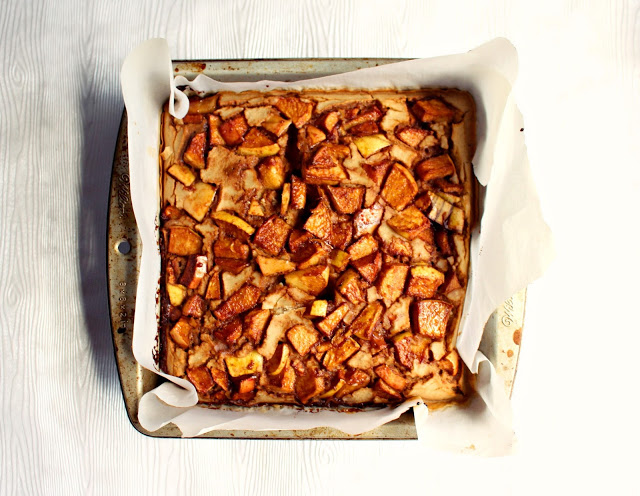 Life is sweet. Remember to dig in.

THIS CAKE IS SWEET AF IF YOU ASK ME
This Hard Core Apple Cake is the perfect "company's not coming" but I still deserve a piece of cake recipe. The secret recipe to keep in your back pocket for last minute self-isolation that requires something sweet, but not too fancy. This no-fuss cake is a breeze to make and a dream to eat. You probably already have the ingredients in your pantry — making it an especially great option for a spur of the moment dessert. Pay close attention to the ingredients as I've made this recipe gluten-free optional.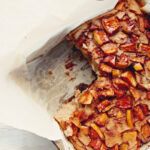 Ingredients
CAKE BATTER:

1 large ripe banana

1.5 cups quick-cook oats

2.25 cups flour (TO MAKE GLUTEN FREE, SUBSTITUTE: 1 cup white rice flour + 1 cup brown rice flour + 1/4 cup arrowroot starch/tapioca starch/corn starch OR two cups of either rice flour + 1/4 cup arrowroot starch/tapioca starch/corn starch OR 2.5 cups all-purpose gluten-free flour)

4-5 tbsp maple syrup

2 tbsp coconut oil OR any neutral oil you have

1 tsp vanilla

l/2 tsp cinnamon

Pinch of salt

Stevia to taste (use more maple syrup if you don't care about reducing sugar)

2 cups of water or non-dairy milk

1/2 tsp vinegar (acv)

1 tsp baking powder

1/2 tsp baking soda

CAKE TOPPING:

3 gala apples, skin on, chopped into small equal size pieces

1/2 cup coconut sugar OR brown sugar OR demerara sugar

2 tbsp maple syrup

Tiny pinch of salt

1/2 tsp cinnamon

1 tsp vanilla extract

1 tbsp arrowroot starch OR cornstarch
Instructions
In a blender OR a food processor, puree all

cake

batter ingredients together until smooth. Taste. Sweeten to your taste with the stevia (if you are using it), adding a little at a time (blending and tasting) keeping in mind the

cake

topping is very sweet so you want the batter to be lightly sweetened but not bland.
Pour batter into a square

cake

pan lined with parchment paper or greased lightly with oil to prevent sticking.

Add all topping ingredients to a bowl, mix well to coat the

apples

.

Once topping is mixed well add evenly to top of

the cake

batter in the pan so there will be

apples

in every piece of

cake

.

Bake in oven preheated to 375F for 22-30 minutes until a toothpick inserted into the middle of the

cake

emerges mostly clean.

Cool slightly and serve.