Sometimes, after a particularly challenging day, all you want to do is kick back and dig into something indulgent. This velvety and rich-tasting dessert is pure joy in a cup. Silky, creamy, rich, sweet, chocolatey and salty…Chocolate and caramel are made for each other.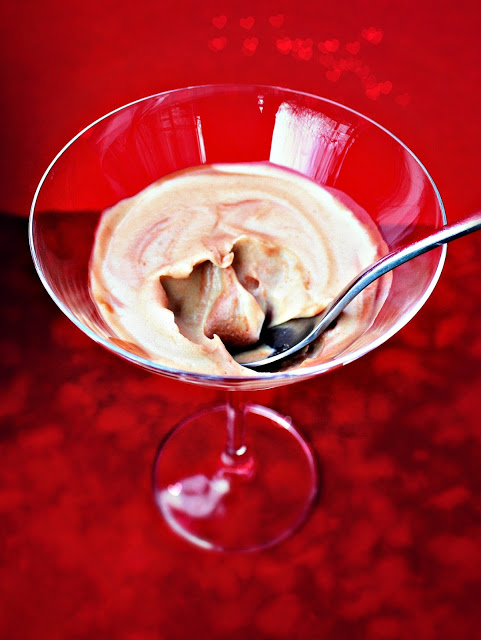 Find someone who'll make you dessert in the Apocalypse. That's the real secret to happiness.

DON'T HAVE A MELTDOWN, HAVE MOUSSE.
I've dubbed this Chocolate Salted Caramel concoction "Meltdown" Mousse. It's perfect for those long days when you just can't even because it's rich and creamy, subtly chocolatey, and surprisingly good for you. You'd never guess it was full of Japanese Sweet Potatoes!
That's right, this luscious dessert gets its rich and silky texture from white-fleshed sweet potatoes and coconut cream. Its vegan, gluten free, oil free, paleo, grain free, nut free, soy free, naturally sweetened and incredible creamy and delicious. Oh, and you can whip it up in your blender in minutes and forget about it while it sets in your fridge.
Sound too good to be true? This healthy mousse recipe kind of is… Now back to those sweet potatoes — each serving of mousse contains a whole cup of steamed Japanese sweet potato! So, though you may be wondering if this dessert is actually healthy, think of it this way — this mousse is like mashed sweet potatoes disguised as chocolate mousse! If you can justify eating mashed sweet potatoes, you can totally handle this too, guilt free.
If you're wondering about what makes this dessert reminiscent of salted caramel, the answer is dates, brown rice syrup and a bit of salt. Half a cup of pitted dates and a little sticky brown rice syrup blends seamlessly into this luscious mousse, naturally sweetening it and giving it a caramel undertone and satiny texture. Half the mixture is kept as is (preserving its delicious salted caramel flavour), the other half gets mixed up with a bit of cacao powder and transforms magically into a chocolate mousse. The two mousses are added to a decorative glass (I used a martini glass) and then swirled together gently for a lovely balance of flavours in every spoonful.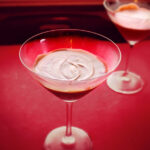 Ingredients
PART 1:

2 cups peeled and steamed Japanese sweet potatoes (use regular if you can't get them)

0.5 cup pitted dates (I used honey dates which are very soft, but you can use any variety. Be sure to soak them first if they are too firm to blend)

1 tsp vanilla extract

0.5 cup canned coconut cream

1 cup water

Big pinch of salt

1.5 tbsp brown rice syrup OR agave nectar OR maple syrup

PART 2:

1.5 tbsp cacao powder

3 tbsp maple syrup

1 tbsp coconut cream
Instructions
Puree all PART 1 ingredients until smooth and creamy. Taste. Add extra maple if it is not sweet enough.

Blend again. Once sweet and smooth, transfer half of the mixture to a bowl.

Add PART 2 ingredients to the remaining mixture in your blender and blend until smooth, stopping to scrape down the sides and blend again.

Grab two attractive glasses and divide the two fillings between them. Swirl them together a little with a spoon.

Transfer to fridge to firm up for a few hours. Top with a tiny pinch of salt if desired. Serve.